Next Edge Private Debt – Commentary – February 2022
Feb 28th, 2022
Next Edge Private Debt – Commentary – February 2022
February 28, 2022
The Next Edge Private Debt Fund (the "Fund") returns ranged between 0.53% (Class A Units) and 0.62% (Class F1 Units) in February. The Fund's underlying portfolio (the "Portfolio") has exposure to 159 factoring, asset-based, specialty finance, or similar type loans: in all, 152 unique clients with transactions in 29 states and 6 provinces. Presently, the geographic weighting of the Portfolio is approximately 38% to the US and 62% to Canada. Of these positions, 103 are factoring positions or facilities, 50 are asset-based loans ("ABL") and 6 are asset-based lender finance loans.
Deal activity continues to be robust, with the Fund financing four transactions in February, three of them being factoring transactions and one ABL loan. Three of these companies were in the US, and one in Canada. This follows an active January in which six deals were closed, with four of them being factoring transactions, one ABL loan and one ABL-Lender finance loan. Five of these were to companies in the US and one in Canada. In all, funding transactions totalling USD 32.1MM and CAD 6MM were closed in the first two months of the year.
Although origination volume and opportunities have remained steady and at an elevated level over the past year, we are consistently seeing more viable transactions that are making their way through the system since the fall of 2021. Based on our pulse of the street, those opportunities are expected to increase throughout 2022, which should provide ample opportunity for the Fund to continue to grow. Fund net AUM remains at historical highs, very close to CAD 400MM for strategy assets (for both CAD & USD versions of the Fund).
The focus of the Fund is to provide financing solutions to businesses throughout North America whereby the length of those facilities is shorter-term in nature. Although some of our clients may choose to stay with us for several years and continue to renew their financing with us, our typical loan facility tends to be 1-year in length. Another question that we have received recently that would like to address is that our loans are interest-paying. Payment-in-kind ("PIK") loans, whereby interest is accrued but not collected, are not something the Fund typically engages in. Our loans primarily pay us interest monthly. Also, as mentioned last month and worth bringing up again, most of our loans are floating rate in nature.
An example of a transaction that was recently financed was a USD 9 million factoring (receivable financing) deal to a US-based company that provides a wide array of procurement, logistics, and fulfillment services within the US and Canada. The company's services include providing safety equipment and medical and sanitation supplies to government entities. In this case, financing was required to fulfill a large order that consisted of delivering COVID-19 tests to a US government entity within the state of Texas. Prior to requesting financing from our group, the company self-funded a little over USD 6 million in PPE, but needed assistance with this one-time, large, state-level purchase order. From the 3C's of underwriting's perspective, the deal had good collateral, credit, and character. Overall, the deal was a good fit and was closed and funded in full.
We welcome and appreciate any referrals, both from the investor side or for small to medium-sized businesses that may require lending capital in the $1MM – $30MM+ range. We do find that more and more financing referrals are coming from our investor clients and readership base, which we welcome with open arms. In many cases, if we can't be of help ourselves, we can make some introductions to others that might be able to assist in the journey of meeting their financing needs. Please reach out with any questions, concerns, or if we can be of help in any way.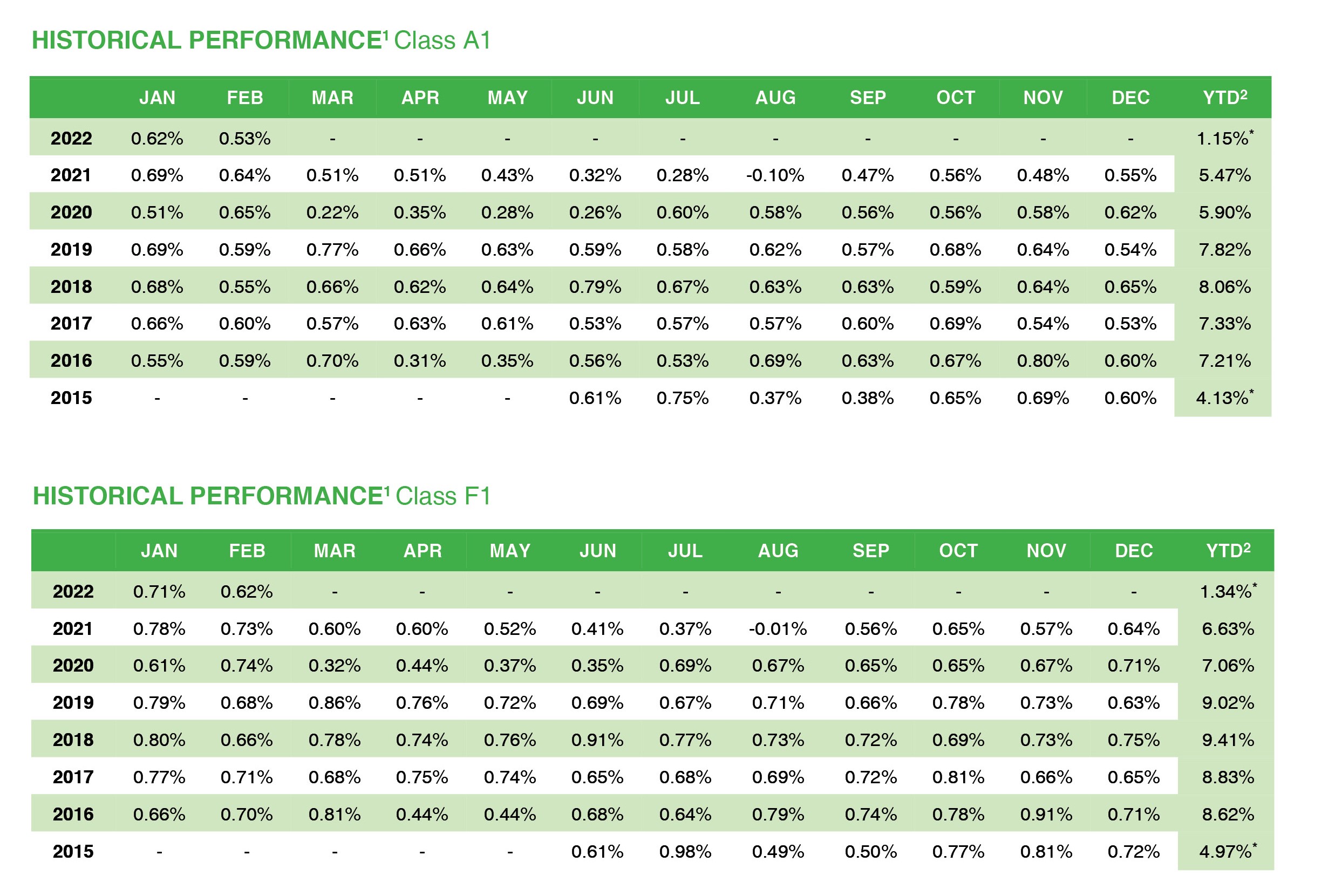 IMPORTANT NOTES
1. The Next Edge Private Debt Fund (the 'Fund') returns are net of all fees and expenses associated with Class A1 Units, ClassF1 Units, Class G Units, and Class H Units charged from June 1, 2015 (trading start date). The Next Edge Private Debt Fund(the 'Fund') returns are net of all fees and expenses associated with Class J Units charged from October 1, 2015 (trading start
date). The Next Edge Private Debt Fund (the 'Fund') returns are net of all fees and expenses associated with Class A Units, and Class F Units charged from April 1, 2017 (trading start date). The Next Edge Private Debt Fund (the 'Fund') returns are net of all fees and expenses associated with Class K Units and Class L Units charged from March 1, 2019 (trading start date). Returns for 2021 and 2022 are unaudited. Therefore, performance statistics containing 2021 and 2022 figures shown in this material are subject to final confirmation. The historical annualized rates of return for the Next Edge Private Debt Fund Class A1 Units as of February 28, 2022 are 1 yr 5.28%, 3 yr 6.35%, 5 yr 6.89%, 10 yr N/A, and CARR 6.98%; for Class F1 Units are 1 yr 6.44%, 3 yr 7.52%, 5 yr 8.15%, 10 yr N/A, and CARR 8.29%; for Class G Units are 1 yr 5.59%, 3 yr 6.66%, 5 yr 7.30%, 10 yr N/A, and CARR 7.37%; for Class H Units are 1 yr 7.02%, 3 yr 8.10%, 5 yr 8.74%, 10 yr N/A, and CARR 8.81%; for Class J Units are 1 yr 6.61%, 3 yr 7.70%, 5 yr 8.34%, 10 yr N/A, and CARR 8.46%; for Class K Units are 1 yr 5.84%, 3 yr N/A, 5 yr N/A, 10 yr N/A,
and CARR 6.90%; for Class L Units are 1 yr 7.02%, 3 yr N/A, 5 yr N/A, 10 yr N/A, and CARR 7.97%; for Class A Units are 1 yr
5.26%, 3 yr 6.33%, 5 yr N/A, 10 yr N/A, and CARR 6.81%; for Class F Units are 1 yr 6.44%, 3 yr 7.15%, 5 yr N/A, 10 yr N/A, and CARR 7.68%.
2. Distribution – adjusted return
*Part Year
Capitalized terms not defined in this document are defined as set forth in the Offering Memorandum of the Fund (the 'OM'). There is no guarantee of trading performance and past or projected performance is not indicative of future results.
Next Edge Capital Corp. is the manager and trustee of the Fund (the 'Manager'). The investment objective of the Fund is to achieve consistent risk-adjusted returns with minimal volatility and low correlation to most traditional asset classes. The Fund intends to achieve its investment objective by investing all, or substantially all, of its net assets in the Next Edge Private Debt LP (the 'Partnership') through the Next Edge Commercial Trust (the 'Sub Trust'). To achieve its investment objective the Partnership will primarily allocate capital to a number of specialist loan originators and managers of credit pools ('Credit Advisors'), to take advantage of opportunities in the private debt markets. Strategies that may be used include trade finance, consumer finance, invoice factoring, supply chain financing, syndicated loans, regulatory capital, mezzanine debt, structured credit and asset-based lending. The Partnership will invest in both senior and subordinated debt subject to the advice and recommendations of their Credit Advisors with the intent of building a portfolio, either directly or indirectly, of private income generating securities. Note to Investment Professionals: The information in the Monthly Report is being provided to current investors in the Fund and is being provided to their registered dealers for informational purposes only.
This is not a sales literature and cannot be used as such. The Fund is not a trust company and does not carry on business as a trust company and, accordingly, the Fund is not registered under the trust company legislation of any jurisdiction. Units of the Fund are not 'deposits' within the meaning of the Canada Deposit Insurance Corporation Act (Canada) are not insured under provisions of that Act or any other legislation.
No securities regulatory authority has expressed an opinion about these securities and it is an offence to claim otherwise. These securities have not been and will not be registered under the United States Securities Act of 1933, as amended, or any state securities laws and may not be offered or sold in the United States or to U.S. persons except pursuant to an exemption from the registration requirements of those laws. The information provided herein is for information purposes only and does not constitute a solicitation, public offering, advice or recommendations to buy or sell interests in the Fund, the Portfolio, Units or any other Next Edge Product. Please refer to the Fund's Offering Memorandum for more information on the Fund as any information in this Report is qualified in its entirety by the disclosure therein.
Opinions expressed are those of the author as of the date of their publication, are subject to change and may not reflect the opinion of all members of the Company. Some statements contained in this material concerning goals, strategies, outlook or other non-historical matters may be "forward-looking statements" and are based on current indicators and expectations at the date of their publication. We undertake no obligation to update or revise them. Forward-looking statements are subject to risks and uncertainties that may cause actual results to differ materially from those implied in the statements.