About Victory Park Capital
Victory Park Capital Advisors, LLC (VPC) is a privately held SEC registered investment advisor dedicated to alternative investing through the management of its investment vehicles. As specialists in credit and private equity investments, VPC focuses on middle market companies across a diversified range of industries. Whether as a lender or a control investor, VPC seeks to identify opportunities where it believes the potential for reward outweighs the risks entailed. Founded in 2007, VPC is headquartered in Chicago with additional resources in London, Los Angeles and New York.
Victory Park Capital Advisors, LLC (VPC)
Founded in 2007 by Richard Levy and Brendan Carroll, disciplined credit investors with long tenure
A private investment firm, with a focus on alternative credit and a commitment to delivering attractive risk-adjusted returns and capital preservation for its investors
Headquartered in Chicago with additional resources in London, Los Angeles and New York
First Non-Bank Financial Services ("NBFS") investment made in 2010
Top-tier Executive Board comprised of prominent investment and industry professionals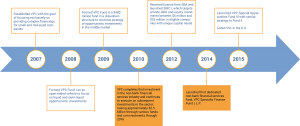 VPC Specialty Lending Strategy
Highlights
The VPC Specialty Lending Strategy seeks to achieve its investment objective by obtaining exposure to investments in specialty lending opportunities by primarily investing in entities managed or advised by VPC through which exposure to the Portfolio will be obtained. The Portfolio will be comprised primarily of investments in the specialty lending market through origination platforms ("Platforms") as well as privately negotiated loans to lower middle market companies ("Middle Market Companies").
Experienced Management Team
Managed by VPC, a Chicago-based middle market lender
The team has completed more than $4.6 billion of investments and commitments across 30 platforms in this sector1
Key investment professionals have average investing experience of more than 15 years
Significant Market Opportunity in the Specialty Finance Lending Sector
The specialty finance lending market continues to expand rapidly
Both borrowers and investors recognize the advantages relative to the bank lending model
Talented and proven management teams are available and have formed alternative finance businesses with significant equity backing
Unlike traditional brick-and-mortar lenders, online specialty finance companies have low overhead, attractive margins and scalability
VPC will also seek to make privately negotiated loans to stable or improving lower middle market companies
The investment strategy is a natural continuation of VPC's established credit platform
Middle market lending team led by Jason Brown, former head of GE Capital's West Region
Attractive Potential Returns
Targeting an 8.0% cash yield, payable quarterly, with a target net total return in excess of 10.0% p.a. (once fully invested)
Potential for gross yields and credit spreads significantly higher than traditional fixed income and high yield bonds.
Access to VPC's Sourcing Infrastructure
VPC has an established brand in on-line lending, existing relationships and forward purchase agreements providing scalable access to online platforms as well as a developed sourcing and origination platform focused on U.S.-based middle market companies 
Diversity of Assets
Investments in multiple businesses provide diversity across geography (US, UK and Europe), product (consumer and small business loans) and structure (specialty finance lending and privately negotiated loans)
1. The VPC Specialty Finance Portfolio is a composite of certain loan investments plus warrants or minority equity positions relating to such investments made by the VPC Funds and co-investments undertaken on behalf of certain clients during the period of July 28th, 2010 through June 30th, 2016, that are similar to the types of investments that VPC expects to make on behalf of any Canadian offerings of the VPC Specialty Lending Strategy.
Source VPC: As of September 30th, 2016